Welcome back to the Sortwell Scoop! This past week's been another busy one, so let's get started!
State of the Tribes Address
Yesterday was the 2023 State of the Tribes address. One important topic that Chairman Robert VanZile of the Sokaogon Chippewa Community and the Great Lakes Inter-Tribal Council, Inc., mentioned was the shortage of access to health care as well as the high cost. One of the solutions he touched on is LRB 0589. This legislation acknowledges that we have a serious APRN (advanced practice registered nurse) shortage, which is felt all throughout the state but is particularly difficult to cope with in rural areas, where healthcare providers are even scarcer.
This legislation helps lower health care costs and provides easier access to APRN assistance for those living on and off reservations. Although we are still in the early stages, I am hoping to see this bill brought before my committee within the next few weeks.
Early Voting Starts Soon!
Early voting for the 2023 general spring election starts next Tuesday, March 21st, until April 1st! Election day is April 4th.
This election offers you the opportunity to vote for who you want to see on Wisconsin's Supreme Court. There will also be a referendum on the ballot, which I voted in favor of, which also presents you the chance to help make a difference and have your voice heard. Depending on your address, you may also have local school board or city council elections going on as well, so make sure you're staying up to date on those. Regardless of whether you vote early or on April 4th, please be sure to participate by voting in both your local and state elections!
Wisconsin Youth Apprenticeship Program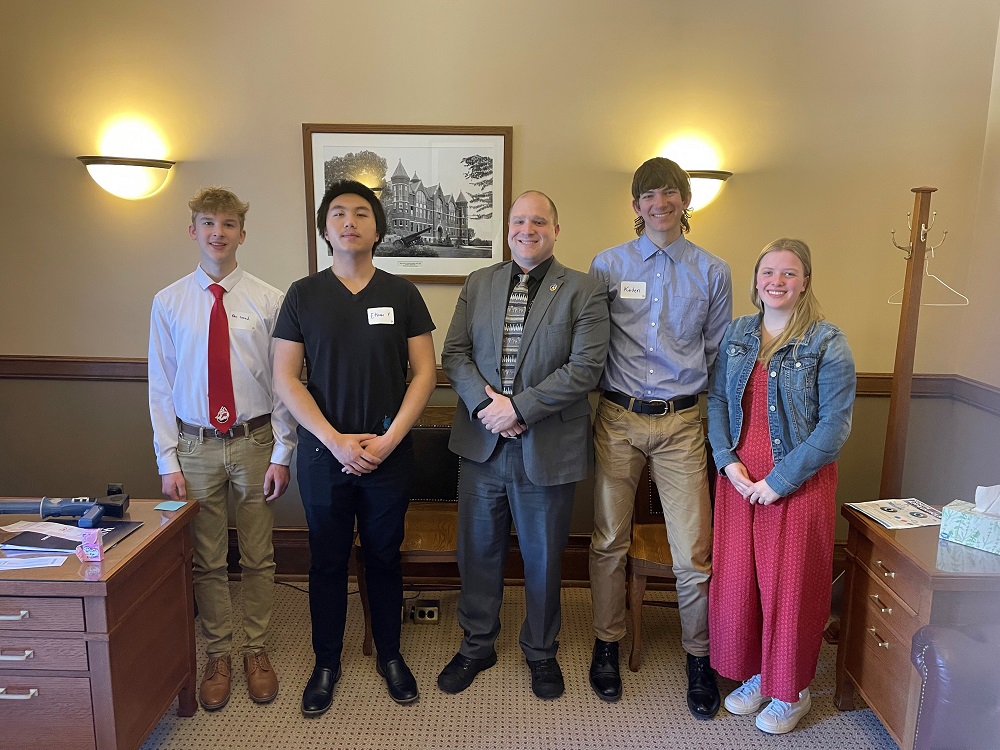 Professional Insurance Agents of WI Meeting
FYI – Licensing Changes Coming Soon
The White House has announced that it plans to end the Presidential national emergency proclamation on May 11, 2023. Accordingly, a temporary license for a person who applied for the temporary license without also applying for a regular license will expire 30 days after that, on June 10, 2023.
To sum it up, if a person has a 2021 Act 10 license only under the Presidential national emergency proclamation that's ending in May, all they need to do is apply for the regular license, and DSPS will be able to identify and manage the files to maintain the person's 2021 Act 10 active license status while the regular application is pending.

In-District Events
Saturday, March 18th, will be the 23rd Annual Dale Kozlowski Memorial Crow Fest. This event will take place at the Westshore Sportsman's Club in Two Rivers from 7 a.m. to 9 a.m. Even if you do not hunt, you are still welcome to stop by and enjoy the food, drinks, live music, and raffles that will be going on.
Saturday, March 25th, will be the Tisch Mills Chicken Booyah at the Tisch Mills Fire Station. This event will take place from noon until gone and is drive-through only.
Friday, March 31st, will be the Annual Fish Boil Fundraiser at the Mishicot Fire Station (214 S. Main St., Mishicot) between 3 and 9 p.m. If you pay in advance, it'll be $14 and it'll be $15 if you pay at the door.
Saturday, April 1st, will be the Easter Eggstravaganza at O.H. Schultz Elementary School (510 Woodlawn Drive, Mishicot). This event will take place between 9 and 11:30 a.m. and is free, but donations are appreciated!
Friday, April 7th, is the Two Rivers Fire Department Fish Boil at the Two Rivers Fire Station (2122 Monroe Street, Two Rivers), from 3 to 7 p.m. It will cost $15 for adults and $6 for children.
Saturday, April 8th, the Way-Morr Lions Club (3832 Park Rd, Greenleaf) will be hosting an Easter Egg Hunt from 9:30 a.m. to 11:30 a.m. 
Saturday, April 8th, will be the Annual Brat Fry at the Mishicot Sportsman's Club (13804 Jambo Creek Road, Mishicot) from 10 a.m. to 5 p.m.
Saturday, April 8th, will be the Larrabee Sportsman's Club Egg Hunt from 12 p.m. to 2 p.m. at 16306 Harpt Lake Road in Mishicot. At noon, it will be for children 5 and under, and at 1 p.m., it will be for children ages 6 to 12.
Head on down to the library for some friendly competition! Every Tuesday from 6-7:30pm, the Lester Public Library in Two Rivers (1001 Adam St.) hosts a Family Game Night. Games and popcorn are provided.